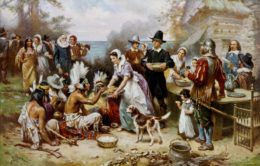 The Thanksgiving that Americans (and Canadians) celebrate today is a combination of two very different New England traditions: the purely religious day of thankful prayer and the harvest feast. The harvest feast is still celebrated and, to a much lesser extent, the religious aspect is celebrated too.
Thanksgiving Day began with the Pilgrim immigrants to New England in 1621, celebrating their first successful harvest. The local Native American tribe – the Wampanoag – that lived there were very peaceful, without a warrior class or even a tradition of warfare, and they interacted peacefully with the Pilgrim settlers.
The early settlers had many disastrous crop harvests. That is why in years when there were good harvests the Pilgrims and other later settlers were so grateful. It became a tradition to celebrate with thanks given during a major feast.
Early Thanksgivings were proclaimed by the individual governors of the colonies on a day of their choosing. There was no national holiday, and the dates of celebration differed among the colonies.
The first national Thanksgiving was proclaimed in gratitude for the American victory at Saratoga in 1777. The Continental Congress set aside Thursday, December 18th, that « the good people may express the grateful feelings of their hearts, and consecrate themselves to the service of their divine benefactor. »
Thanksgiving is now celebrated on the fourth Thursday of every November. This year that date is November 27th. On that day, American families will pile their plates high with roasted turkey, mashed potatoes, sweet potatoes, corn, cranberry sauce, apple pie, pecan pie, and especially pumpkin pie, as they have every year in celebration.
Thanksgiving has become a major holiday and very commercial. Major films are released during this long weekend (Thursday to Monday morning) holiday and major sporting events such as American football occur during this time. Friends and family also send or give one another greeting cards. It is also one of the busiest times of the year for air and ground travel as families across America reunite for a Thanksgiving feast.
The Macy's Thanksgiving Day Parade is an annual parade presented by the U.S. chain store business Macy's. The tradition started in 1924, tying it for the second-oldest Thanksgiving parade in the United States along with America's Thanksgiving Parade in Detroit, with both parades four years younger than the 6abc Dunkin' Donuts Thanksgiving Day Parade in Philadelphia. The three-hour Macy's event is held in New York City starting on Thanksgiving Day, and has been televised nationally since 1952.
Thanksgiving has also given rise to some outrageous activities, such as Turkey Bowling, where frozen turkeys are used as bowling balls. Animal rights activists have objected to this practice.
But, overall, the Classic American holiday brings families numerous benefits when the science behind gratitude is understood. Gratitude has the strongest link with mental well-being, increases spiritualism and self-esteem, and makes you 25% happier!
As Cicero said, "Gratitude is not only the greatest of virtues, but the parent of all the others ».
Thanksgiving is truly the most important of American holidays because, more than even Christmas or the Fourth of July, it is a time when American families reunite, express gratitude for one another, and feel closer to one another than at any other time. It is a rare American who does not have fond childhood memories of Thanksgiving Day.
Mr. Scott Tips, culture&sens, 2014.